WHO IS THE PHILOSOPHER-KING?
Saturday 5 January to Saturday 12 January 2019
The Sydney School of Practical Philosophy is pleased to announce that the Australian Plato Week will be held at Mahratta in Sydney from the afternoon of 5 January until the morning of 12 January.
The study for the event will be Plato's Republic Book V-VII (471C - 526C), where Socrates introduces and explains the idea of the Philosopher-King, and explores the subjects that will lead the mind from becoming to being, the first criterion of a philosopher.
The Republic is arguably one of the most profound and influential writings in Western Civilisation.
After introducing the Philosopher-King, Plato goes on to consider the nature of the Philosopher, the difference between a Philosopher and a Sophist, and how there is no hope for humanity until the functions of Philosopher and Statesmen come together in a single person. This study is also illustrated by the Allegory of the Cave, the Divided Line, The Good, and the Idea of the Good.
Save
Save
Save
Unless... political power and philosophy coincide in the same person... the cities will have no rest from their evils, my dear Glaucon, and neither, in my view, will the human race. ~ Plato's Republic, Book V, 473
The event is open to all students of the Australia School who have been on a Philosophy Residential previously and are meditating.
A TYPICAL DAY ON THE RETREAT
The event will follow the general outline of Plato Weeks: Plenary meetings, study groups, possible electives, free time in the afternoons, some service activities, meditation, as well as meals and special evening activities.
We set aside free time each afternoon to give you an opportunity to rest, relax, get outside, and have some fun.
Save
Save
Save
Mahratta is an art-deco mansion set in beautiful garden grounds. If you're curious to know more, view the Mahratta website here www.mahratta.org.au
Rooms are basic but comfortable, and are generally shared between 2-4 people.  Note that male and female rooms are separated for the week.  Sheets, blankets etc will be supplied.
If you require a special sleeping arrangement, please let us know in advance.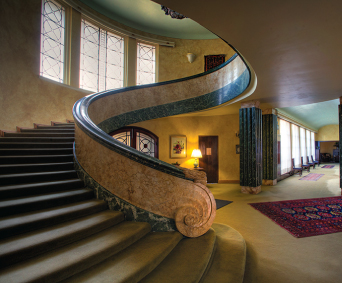 Food will be a varied and delicious vegetarian menu for breakfast, lunch, and dinner each day.  Don't worry - there will be plenty of food!
Please fill out the form carefully including all special needs and requirements.
Dietary requirements can be catered for, we have gluten-free and dairy-free options and we are nut-aware.
Bring several sets of clothes and plan for a range of activities. Smart casual clothes for day and evening plus suitable clothing for activities such as gardening or sport (if you're keen).
Bring all the personal items you'd normally use during a week away - toothbrush, hairbrush, chargers, sunglasses, any medications (please let us know if you have any particular medical requirements and we'll assist however we can).
Consider bringing a book, a ball, tennis racket and shoes or some social games for free time.
It's fine to bring a laptop in case you need to work, but it's recommend to leave your computer behind to get the most out of the week.
Bath towels and all bedding, including linen, pillows, pillowcases and blankets will be provided.
The cost is $450 for the week which includes transportation to and from Sydney airports, all meals and study material.
Registration is via the website only.Save
Save
Save
ADDRESS AND TRAVEL DETAILS
The address for the retreat is:
"Mahratta",
25 Fox Valley Road,
Wahroonga, New South Wales.
The estate is located on the corner of Fox Valley Road and Pacific Highway. Please enter through the main double-gate on Fox Valley Road.
By Car: If you plan to come by car, you can park either inside the property, or on Fox Valley Road, wherever spaces are available. 
By Air: If you are flying into Sydney, please indicate your arrival and departure details on the attendee form on the website. If you are travelling by air please note that a pick-up bus will depart Sydney airport at 3pm on Saturday 5 January. An airport drop-off bus will depart Mahratta at 10am on Saturday 12 January (allow an hour for this journey).
If your flight arrival / departure times do not allow you to make use of these buses then please make your own arrangements for travel between the airport and Mahratta.
Train: Catching the train to Mahratta is fairly straightforward. A train line runs from the Airport (both international and domestic terminals) to Central Station (make sure you get on the train going to the city and not to Cronulla). On weekends, trains leave every 10 – 15 minutes. Get off the train at CENTRAL STATION and go to platform 16 for trains that will head to WARRAWEE STATION. This is the T1 North Shore and Northern Line (colour code yellow; Warrawee is between Chatswood and Hornsby). Any train on this line departing Central Station to Berowra or Hornsby via Gordon will stop at Warrawee – avoid catching any trains that are going to Hornsby via Macquarie Park. 
The journey from the airport to Warrawee station takes around 1 hour. Once you arrive at Warrawee station, it's a 10 minute walk to Mahratta. 
Sydneysiders: Please indicate whether you will be staying at home or onsite at Mahratta.
Save
Save
Save
Are you ready to secure your space? Click the 'select event' button below to start the registration.
Sorry, we couldn't find any posts. Please try a different search.